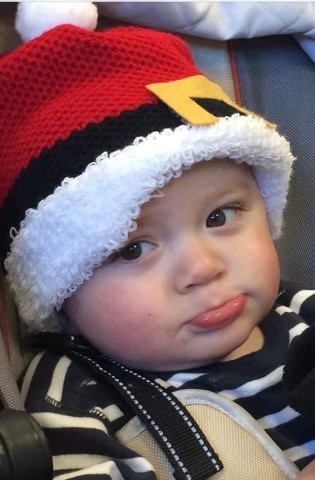 Cooper 'Coop' Matthew Richards
On January 19, 2017, at just 3 years old, Copper passed away after a courageous battle with a rare disease called GM-1 Gangliosidosis. Following Cooper's passing, his family took on the mantra of "Doing Cooper Work", which is doing small things to make a big impact in the lives of courageous children and families. Through the Coop's Troop Foundation, Inc., they carry forward this mantra by helping children with life-limiting diseases and special needs lead quality and happy lives. Cooper loved his home, so it is only fitting that his family has opened their home every holiday season to host a Toy and Gift Drive. All toys collected from the Coop's Troop Toy Drive will be donated to My Brother's Keeper and distributed to their community partners and those in need.
If you would like to participate in the 8th Annual Coop's Troop Toy Drive, please bring a new, unwrapped toy to the Credit Union by Friday, December 1st. Below you can find a list of popular and requested toys.
Children/Teen Wishes~
| | |
| --- | --- |
| Infant boy | Light up-music toy |
| Infant boy | Soft baby blocks |
| Infant boy | Books |
| Infant girl | Crib Mirror |
| Infant boy | Warm socks |
| Infant boy | Soft Blankets/Book |
| 1 year old girl | Cocomelon Toy |
| 2 year old boy | Paw Patrol toy |
| 2 year old boy | Sesame Street Toy |
| 2 year old girl | Elmo stuffed animal |
| 3 year old girl | Fisher Price learning toy |
| 3 year old boy | Playtent |
| 3 year old boy | Bluey Toy |
| 3 year old girl | Blippi Toy |
| 3 year old boy | Little People Play set |
| 4 year old boy | Superheros toy |
| 4 year old boy | Toy Story Toy |
| 4 year old boy | Firebuds Bo and Flash Toy |
| 5year old girl | Disney Princess Toy |
| 5 year old girl | Arts and Crafts set |
| 5 year old girl | Puzzles |
| 6 year old girl | Barbie Move Toys |
| 6 year old girl | Squishmallow |
| 6 year old girl | Frozen Barbie- Elsa or Ana |
| 6 year old girl | Polly Pocket |
| 7 year old girl | Jewelry making kit |
| 7 year old boy | Pokemon toy or cards |
| 8 year old boy | Super Mario Bros.movie toys |
| 9 year old boy | Lego set |
| 9 year old boy | Funko Pop |
| 9 year old girl | Anything Taylor Swift |
| 9 year old girl | Hair supplies- scrunchies, hair brush, headbands |
| 9 year old girl | Monster High Doll |
| 10 year old boy | Basketball or Football |
| 10 year old boy | Stem/Science kit |
| 10 year old boy | Light up rubiks cube |
| 11 year old boy | Loves Boston Sports Teams |
| 11 year old girl | Belt Bag |
| 11 year old boy | Colored pencils and art supplies |
| 11 year old boy | Remote control car |
| 12 year old boy | Anything Boston Sports Teams |
| 12 year old boy | Naruto |
| 12 year old girl | Harry Potter |
| 12 year old girl | Adult coloring book, gel pens |
| 13 year old girl | Water bottle with straw |
| 13 year old boy | Bruins sweatshirt |
| 13 year old girl | Bath Bomb/shower gel |
| 14 year old girl | Make up pallet |
| 14 year old boy | Anything anime |
| 14 year old girl | Makeup brushes |
| 14 year old girl | Tree Hut body wash |
| 14 year old girl | Make up set/ gift card |
| 15 year old girl | Small pull suitcase or bag |
| 15 year old girl | Earring set |
| 15 year old boy | Comfortable slippers |
| 15 year old girl | Wax warmer |
| 15year old girl | Journal and gel pens |
| 15year old boy | Hooded sweatshirt or joggers |
| 16 year old girl | Walmart Gift Card |
| 16 year old girl | Target Gift Card |
| 16 year old girl | Bath and Body set |
| 16 year old boy | Perfume set |
| 16 year old boy | Amazon gift card |
| 16 year old boy | Nike socks |
| 17 year old boy | Mens bath set |
| 17 year old boy | Itunes Gift Card |
| 17 year old boy | Patriots winter hat |